Data Center Cooling Solutions
A Data Center can be defined as a facility used to house computer systems and associated components, such as telecommunications and storage systems. It generally includes environmental controls (e.g., air conditioning, fire suppression) redundant or backup power supplies, redundant data communications connections, and security devices. Today, almost every organization has a data center, although it might be referred to as a server room or even a computer rack.

Building a data center is a complex activity involving, various viable configurations and options for alignment and layout of supporting systems. The basic requirements of data centers are already specified in standards such as ANSI-TIA/EIA 942A and the other standards related to data communications and systems. Data centers, whether small or large, mainly address the availability of stored data and computing resources for users.

The building of data centers is a complex process requiring knowledge of other disciplines, cooling systems, power systems, safety equipment access, monitoring and supervision.

Data Centers today represent a complex challenge to optimize the efficient use of power and cooling while providing a secure and stable environment for processing and transmission equipment, data storage.

In order to give the designer of the Data Center the greatest freedom, we have a comprehensive range of products and technologies including racks, cooling units, intelligent power supplies and cable management accessories. Our high quality Racks, frames, and cable management products help to ensure that your equipment remains in a stable operating environment and your network cabling is adequately supported in the data center, our airflow optimization products help to ensure that cooled air is delivered at the equipment in the data center.

We work with industry leading companies and combine best practices with high quality infrastructure products to give you choice and flexibility for your data Centre design and cooling strategy.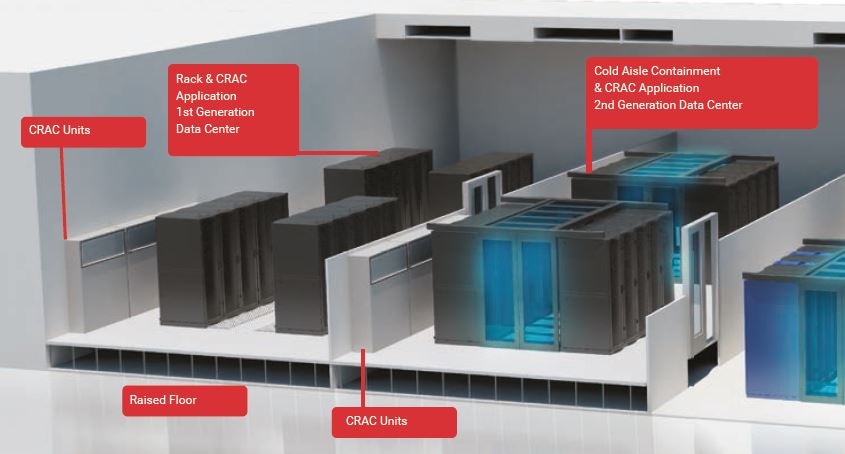 Data Center Solutions in Oman
Suleyum Al Kiyumi Trading LLC is Oman's Leading Telecom and Networking Products and Accessories Supplier and we offer Complete data center solutions in Muscat, Oman. We have almost all your data center needs in Muscat and are the largest IT accessories/data center passive components supplier in Oman. We have been in this business for more than 20 years and we are your one stop shop for your entire data center and IT procurement needs in Oman. we offer top quality brands for you to choose from for your data centers or server room infrastructure.

For data center projects in Oman, we offer world class products for the following:

Raised Flooring
Efficient Cooling Solutions supplied in Muscat, Oman by Conteg - Czech Republic or Knurr – Germany.
Effective airflow management Supplied in Muscat, Oman by Conteg - Czech Republic or Knurr – Germany.
E PDU – Switched, Fail Safe Transfer Switches and multiple other options supplied in Muscat, Oman from RPP – UK, Server Technology – USA and Conteg – Czech Republic.
Monitor wall, specialized technical IT furniture supplied in Muscat, Oman from Knurr, Germany.
Reducing carbon footprint and energy cost is a "go green" initiative that Suleyum Al Kiyumi has worked on in implementing in Muscat, Oman for over a decade with power control and monitoring systems partnerships with innovative products from manufacturers around the world.
Structured Cabling solutions supplied in Muscat, Oman from Conteg, Czech Republic. We supply wire management solutions from international manufacturers in Muscat, Oman.
Grounding and Bonding solutions for IT cabinets and server racks in Muscat, Oman to protect your network.
Security System
Access Control
Environmental Monitoring systems for IT rooms, Data centers and servers via innovative products supplied in Muscat, Oman.
Fire Detection & Suppression equipment for specialized IT requirements in Muscat, Oman.
Our Product Range
Raised Flooring supply and installation in Oman:
Floor that provides an elevated structural floor above a solid surface (often a concrete slab) to create a hidden space for the passage of mechanical and electrical services is a raised floor or access floor or raised access computer floor. They are widely used in modern office buildings, Information Technology data centers and computer rooms where there is a requirement to route mechanical services, cables, wiring, and electrical supply. Raised/Access Flooring can be installed at varying heights from 2 inches (51 mm) to heights above 4 feet (1,200 mm) to suit services that may be accommodated beneath. We provide raised floor solutions for data centers in Muscat, Oman.

Cooling Solutions supply and installation in Oman:
Effective cooling solutions are required to keep the heat generated inside the datacenter under control. By keeping the heat generated inside of the data center under control, power required to run the cooling equipment inside of the data center can be reduced.
We provide various data center cooling solutions in Oman which are cost effective, efficient in providing proper cooling for the components within the data centers, reducing carbon emission to the environment. We provide cooling solutions in Oman such as Hot/Cold Isle, Contained Cold Isle, Plenum feed with room return, Room feed with plenum return and targeted precision cooling solutions as well.

Hot/Cold Aisle.

Contained Cold Aisle Containment with IN-Row Coolers

Contained Hot Aisle Containment with IN-Row Coolers



PDU / CDU / E PDU supply and installation in Oman:
We offer a large choice of Power distribution units (PDU) or Cabinet Power Distribution Units (CDU) in Oman, also supplying Intelligent Power distribution units. These units can be fitted to the racks within the data centers, supplying power to the servers, computers and equipment inside of the data center. Using intelligent power distribution units (CDU) one can remotely monitor, control the equipment inside of the racks in the data center. By switching off the equipment which is not required to function during particular time automatically using intelligent power distribution units can save power, save on electricity bill and reduce heat emission by the equipment in side of the data centers. Intelligent power products give you the ability to remotely manage the equipment powering, with power control and monitoring available at the individual socket putting you in total control of the equipment connected to your network in the Data Centre. We supply PDUs in Oman that give you access and control to monitor as well as reboot your systems remotely as well the power to switch any socket in the PDU ON/OFF.



Intelligent Power Distribution Units



IT/ Networking / Server Rack and Accessories supply and installation in Oman:
Racks We supply high quality, cost effective data center racks and accessories in Muscat, Oman. We supply wall mounted racks of various height 6U-15U( double section, single section), floor standing network and server racks of height 18U-46U. We also supply cable management accessories, power distribution units, cooling fans, cooling fans with thermostat, cage nuts, light duty and heavy duty shelves, data center computing equipments for clients accross Muscat, Oman.

Data Center Racks, Open Frames

Data Center Racks, Cable Management Accessories

Cable Management Accessories



Networking Furniture / Control room furniture / Technical Furniture / Laboratory Furniture supply and installation in Oman:
Mission critical environments demand a technical furniture solution which is attractive, safe dependable, comfortable to work at. We supply, install Network Operations Centre (NOC) room furniture as per your requirements. We supply Knurr specialised lab and technical furnitures, made in Germany to the Omani market.




NOC Room Furniture